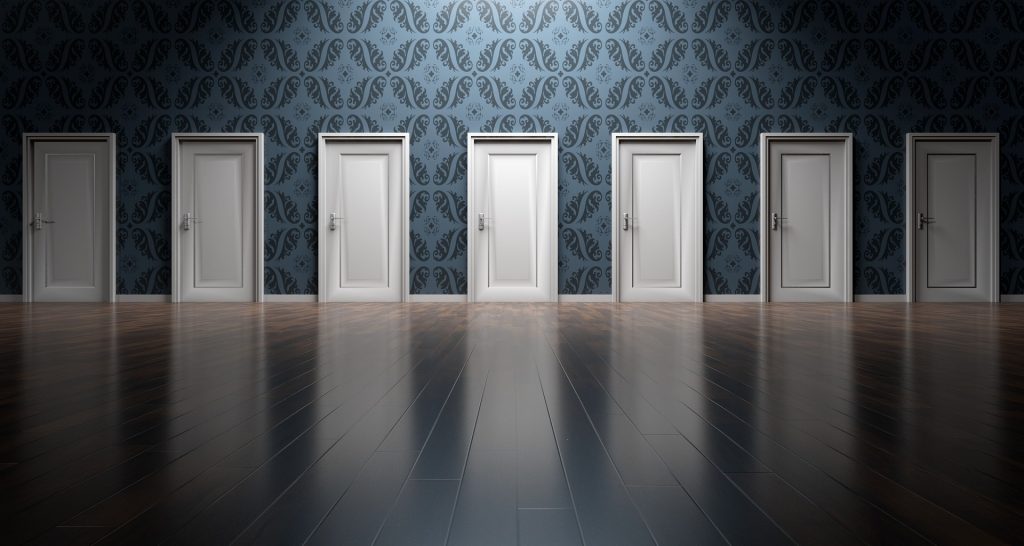 I have struggled with making decisions in the past. I bought a few books on it, and had some success with that. Because of the complexity of life these days, and that I don't know everything and can't predict the future, I have turned to prayer for assistance in making decisions. This is also in keeping with step 3 of the Anonymous 12 step programs, such as AA – to turn my life and will over to the care of God as I understand Him. In some cases, research and education may be needed as well.
Problem-solving or finding a solution to a problem also involves making a decision between several options, or just formulating possible solutions to the problem. In cases where there is no standard line of procedure, prayer can be helpful in both coming up with possible solutions, and then once again when choosing between several options. Below are two ways of using prayer when making decisions.
1st Method
"While in Haifa, the beloved Guardian of the Cause gave to the writer (Mrs Ruth Moffet), the most concise, complete, and effective formula she has ever seen, for the Dynamics of Prayer. After saying to stress the need of more prayers and meditation among the friends, he said to use these five steps if we had a problem of any kind for which we desired a solution or wished help.
First Step – Pray and meditate about it. Use the prayers of the Manifestations as they have the greatest power. Then remain in the silence of contemplation for a few minutes.
Second Step – Arrive at a decision and hold this. This decision is usually born during the contemplation. It may seem almost impossible of accomplishment but if it seems to be as answer to a prayer or a way of solving the problem, then immediately take the next step.
Third Step – Have determination to carry the decision through. Many fail here. The decision, budding into determination, is blighted and instead becomes a wish or a vague longing. When determination is born, immediately take the next step.
Fourth Step – Have faith and confidence that the power will flow through you, the right way will appear, the door will open, the right thought, the right message, the right principle or the right book will be given you. Have confidence, and the right thing will come to your need. Then, as you rise from prayer, take at once the fifth step.
Fifth Step – Then, he said, lastly, ACT; Act as though it had all been answered. Then act with tireless, ceaseless energy. And as you act, you, yourself, will become a magnet, which will attract more power to your being, until you become an unobstructed channel for the Divine power to flow through you.
Many pray but do not remain for the last half of the first step. Some who meditate arrive at a decision, but fail to hold it. Few have the determination to carry the decision through, still fewer have the confidence that the right thing will come to their need. But how many remember to act as though it had all been answered? How true are those words-"Greater than the prayer is the spirit in which it is uttered" and greater than the way it is uttered is the spirit in which it is carried out.
The above statement belongs properly to the class of statement known as "pilgrim's notes" and as such has no authority but, since it seems to be particularly helpful and clear, it was felt that believers should not be deprived of it."
(Baha'i Administration, pp 90-91)
2nd Method
"Your email letter of 17 August 2012, addressed to the Universal House of Justice, enquiring about a prayer revealed by Bahá'u'lláh for Jináb-i-Samandar to assist him in making a difficult decision, has been received at the Bahá'í World Centre and passed to our Office for reply. The prayer is in Arabic, was transcribed by 'Andalíb, and has been published in Majmú'iyi-Alvá-i-Mubárakiy-i-arat-i-Bahá'u'lláh (Tihrán: Bahá'í Publishing Trust, 132 B.E.), page 9. It is also available through the Bahá'í Reference Library at reference.bahai.org/fa/t/c/AB/ab-68 and reference.bahai.org/fa/t/b/AN/an-13.html.
The following is the authorized English translation of the prayer:
Sín Mím [Samandar], upon him rest My glory, hath ever been the recipient of divine favours, and there hath befallen him in the path of God that which His knowledge alone can encompass.
In regard to his affairs, let him repeat nineteen times:
"Thou seest me, O my God, detached from all save Thee and cleaving unto Thee. Guide me, then, in all mine affairs unto that which profiteth me for the glory of Thy Cause and the loftiness of the station of thy loved ones."
Let him then reflect upon the matter and undertake whatever cometh to mind. This vehement opposition of the enemies will indeed give way to supreme prosperity.
Universal House of Justice to an individual"
(Copied from https://www.thebahaiprayers.com/subject/decision-making)
You can combine both methods, by saying the prayer for the 2nd method 19 times, for the first step of the first method.
Related Blogs: