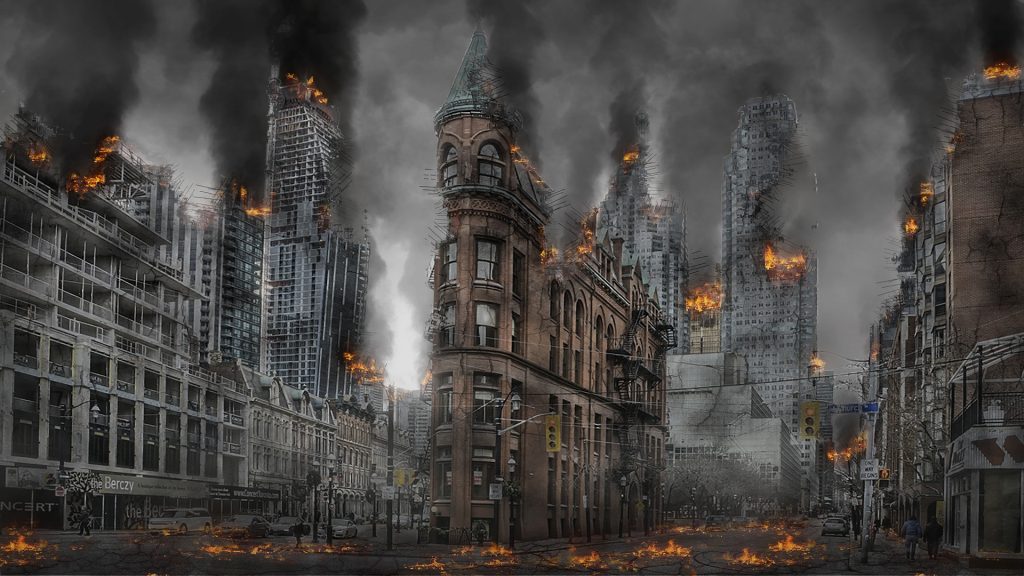 (updated November 2021)
End of times, also referred to as Armageddon, is a belief common among many religions, as explained in this Wikipedia article.
The Bible Gateway website has many translation versions of the verse below, including many other languages. Christians often check various translations of a verse, and this website makes that easy. I find it helpful to look definitions words I am not so sure about. I have hyperlinked a few words in the quote below I wasn't certain about, to Merriam Webster's online definitions.
"But mark this: There will be terrible times in the last days. People will be lovers of themselves, lovers of money, boastful, proud, abusive, disobedient to their parents, ungrateful, unholy, without love, unforgiving, slanderous, without self-control, brutal, not lovers of the good, treacherous, rash, conceited, lovers of pleasure rather than lovers of God— having a form of godliness but denying its power. Have nothing to do with such people." Bible, 2 Timothy 3:1-5, New International Version.
On the brighter side is this well-known Bible verse Isaiah 2:4 (New International Version): "He will judge between the nations and will settle disputes for many peoples. They will beat their swords into plowshares and their spears into pruning hooks. Nation will not take up sword against nation, nor will they train for war anymore."
I believe the Lord's Prayer still holds true: "After this manner therefore pray ye: Our Father which art in heaven, Hallowed be thy name. Thy kingdom come, Thy will be done in earth, as it is in heaven. Give us this day our daily bread. And forgive us our debts, as we forgive our debtors. And lead us not into temptation, but deliver us from evil: For thine is the kingdom, and the power, and the glory, for ever. Amen." Matthew 6:9-13, King James Version.
This idea of dual opposites, such as light and darkness, or yin and yang, really surfaced for me while writing this blog. The Baha'i Faith teaches that Armageddon is not the complete end of the world, but the end of the way the world has been, where power, ego, injustice, prejudice, inequality, and sin (dare I use that word on a website that claims to be Baha'i-inspired?) have been too common features of life. It is a very tumultuous time where chaos and confusion are rife when the forces of light and darkness seem to in a battle in society and within people themselves. It has been likened to the birth pangs of a new age.
"Arise, O people, and, by the power of God's might, resolve to gain the victory over your own selves, that haply the whole earth may be freed and sanctified from its servitude to the gods of its idle fancies—gods that have inflicted such loss upon, and are responsible for the misery of, their wretched worshipers. These idols form the obstacle that impedeth man in his efforts to advance in the path of perfection." Baha'u'llah.
A tempest, unprecedented in its violence, unpredictable in its course, catastrophic in its immediate effects, unimaginably glorious in its ultimate consequences, is at present sweeping the face of the earth. Its driving power is remorselessly gaining in range and momentum. Its cleansing force, however much undetected, is increasing with every passing day. Humanity, gripped in the clutches of its devastating power, is smitten by the evidences of its resistless fury. It can neither perceive its origin, nor probe its significance, nor discern its outcome. Bewildered, agonized and helpless, it watches this great and mighty wind of God invading the remotest and fairest regions of the earth, rocking its foundations, deranging its equilibrium, sundering its nations, disrupting the homes of its peoples, wasting its cities, driving into exile its kings, pulling down its bulwarks, uprooting its institutions, dimming its light, and harrowing up the souls of its inhabitants. (Shoghi Effendi, The Promised Day Has Come)
"The time for the destruction of the world and its people," Bahá'u'lláh's prophetic pen has proclaimed, "hath arrived." "The hour is approaching," He specifically affirms, "when the most great convulsion will have appeared." "The promised day is come, the day when tormenting trials will have surged above your heads, and beneath your feet, saying: 'Taste ye what your hands have wrought!'" "Soon shall the blasts of His chastisement beat upon you, and the dust of hell enshroud you." And again: "And when the appointed hour is come, there shall suddenly appear that which shall cause the limbs of mankind to quake." "The day is approaching when its [civilization's] flame will devour the cities, when the Tongue of Grandeur will proclaim: 'The Kingdom is God's, the Almighty, the All-Praised!'" "The day will soon come," He, referring to the foolish ones of the earth, has written, "whereon they will cry out for help and receive no answer." "The day is approaching," He moreover has prophesied, "when the wrathful anger of the Almighty will have taken hold of them. He, verily, is the Omnipotent, the All-Subduing, the Most Powerful. He shall cleanse the earth from the  4  defilement of their corruption, and shall give it for an heritage unto such of His servants as are nigh unto Him." (Shoghi Effendi – quoting Baha'u'llah – The Promised Day Has Come)
Not ours, puny mortals that we are, to attempt, at so critical a stage in the long and checkered history of mankind, to arrive at a precise and satisfactory understanding of the steps which must successively lead a bleeding humanity, wretchedly oblivious of its God, and careless of Bahá'u'lláh, from its calvary to its ultimate resurrection. Not ours, the living witnesses of the all-subduing potency of His Faith, to question, for a moment, and however dark the misery that enshrouds the world, the ability of Bahá'u'lláh to forge, with the hammer of His Will, and through the fire of tribulation, upon the anvil of this travailing age, and in the particular shape His mind has envisioned, these scattered and mutually destructive fragments into which a perverse world has fallen, into one single unit, solid and indivisible, able to execute His design for the children of men.
Ours rather the duty, however confused the scene, however dismal the present outlook, however circumscribed the resources we dispose of, to labor serenely, confidently, and unremittingly to lend our share of assistance, in whichever way circumstances may enable us, to the operation of the forces which, as marshaled and directed by Bahá'u'lláh, are leading humanity out of the valley of misery and shame to the loftiest summits of power and glory.
(Shoghi Effendi, The Promised Day Has Come)
Bible Verses:
Book and eBooks:
Related Baha'i Writings and Prayers:
Abdu'l-Baha's explained five Bible verses related to the end of times in the book Some Answered Questions:
Baha'i Library Online website articles:
Bahaiteachings.org website articles:
Related Audio:
Related blog: Healing a Sick World
Finally, I stumbled across two Youtube playlists that seem in harmony with the Bible verse Isaiah 2:4