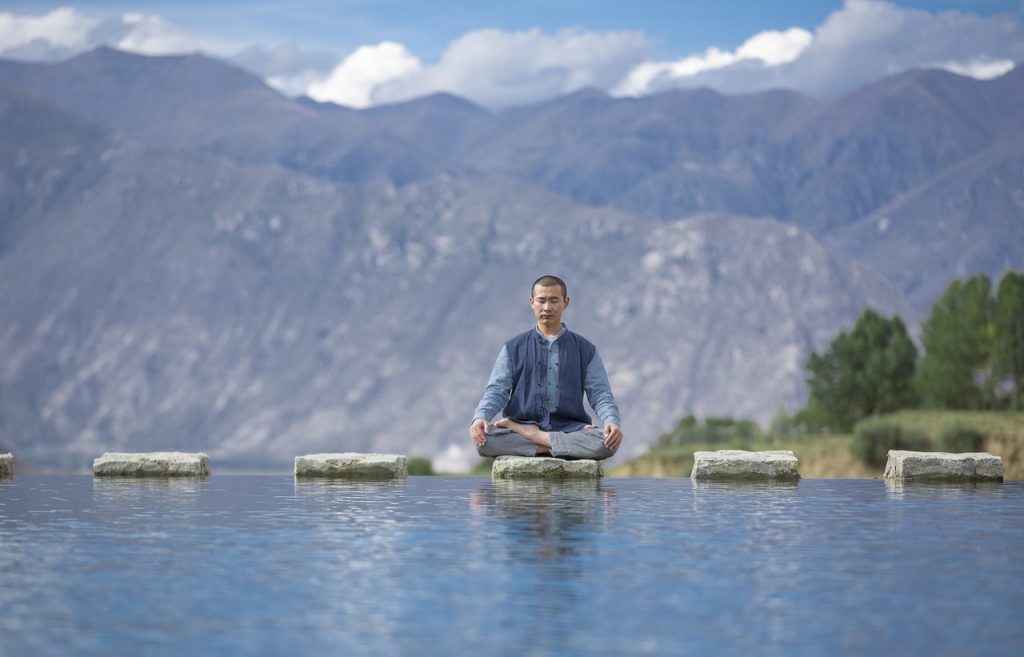 Mindfulness is a Buddhist practice of meditation, and for a few decades, has been used alone or in combination with other therapies, to promote mental health. I learned about mindfulness from listening to an interview of Jon Kabat-Zinn on CBC's Tapestry radio show. He was a doctor at a cancer clinic at a hospital in Boston, and used mindfulness to help cancer patients cope better with their pain.
Mindfulness is the practice of focusing on one area of your consciousness, such as paying attention to your breath, then patiently being aware of normal distracted thoughts that come up during this practice. In his book Get Out of Your Mind and Into Your Life, Stephen Hayes likens these stray distracted thoughts, that come up while trying to focus on your breathing, like leaves on a river that float past. Jon Kabat-Zinn says to just notice the distracted thought, for example your next activity on your agenda, and gently focus your mind back to your breath.
I learned how to do mindfulness mainly with Jon Kabat-Zinn's mindfulness meditation CDs – Series 1. This Youtube video is an extract from one of the four CDs in the first series of CDs. With his cancer patients, Jon Kabat-Zinn would counsel his cancer patients not to avoid the pain they were feeling, but rather be more aware of it. Paradoxical as it seems, mindfulness helped the cancer patients cope better with pain they were forced to endure due to their illness. Free online mindfulness resources are available at the website Wellness Together.
Quickly the idea caught on, that if this works for physical pain, it would likely help people cope better with psychological, emotional or mental pain or discomfort. Soon authors were off to the races publishing a variety of books, from various therapeutic schools, employing mindfulness as an adjunct or main feature of their method. Acceptance and Commitment Therapy (ACT), Dialectical Behavior Therapy (DBT), Mindfulness-Based Cognitive Therapy (MBCT), and Self Compassion are examples of therapies where mindfulness is a large component of the therapy.
These ideas aren't altogether new. The Alcoholics Anonymous based 12-step programs, have a serenity prayer that goes "God grant me the serenity to accept the things I can't change, courage to change the things I can, and wisdom to know the difference". I have heard in an Emotions Anonymous meeting that if you can't think you can make it through the day, to focus on making it through the next hour. If you can't do that, to focus on making it through each moment, one moment at a time. I have heard people say to live for the moment, but this seems to me more aligned with a hedonistic attitude towards life, rather than a way of coping with an extremely difficult life.
It is my understanding that addictions can often be created when people avoid facing legitimate pain or problems by filling their spare time with a pleasurable activity, like drinking, shopping, sex, eating, gambling, and so on. I first read about this concept of legitimate pain in Scott Peck's Road Less Travelled. In David Burn's Ten Days to Self Esteem, he writes about emotional perfectionism, and emotaphobia (fear of distressful emotions).
It's quite funny that being aware of your pain or distress actually helps you to cope better, because the common belief seems to be to cover up, mask or escape your pain and misery. But I have found from practice that it works for me. Biofeedback can also help you to meditate better – check out my blog on the biofeedback devices Mendi and Muse 2.
Related Blogs: